AEON Bukit Raja Shopping Centre blog
Jewel Cafe – Rolex Buyer In Bukit Raja, Klang
March 13, 2020
Hi and good evening.
Thank you for visiting Jewel Cafe's Blog today.
As you know Jewel Cafe can buy branded watch. One of the brand that we can buy is ROLEX.
Got a ROLEX watch that we purchased from our customer. The model is Rolex Sea-Dweller 126603 self-winding men.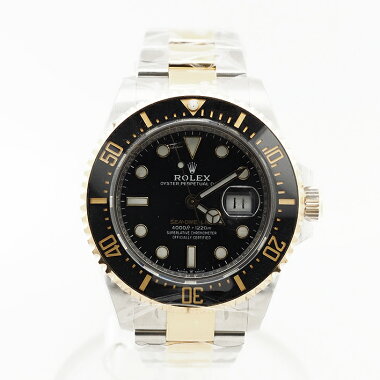 Product Information
Brand : ROLEX
Model Name : SEA-DWELLER 4000
Ref No : 126603
Serial No : 9R76FXXX (random serial / purchased on June 26, 2019)
* Regarding the serial number, we do not post it on the website due to privacy concerns. Please note that we cannot respond to inquiries.
Material : SS / 750 / K18YG / ceramic
Case diameter : About 43.0mm
Arm circumference : About 19.5cm
Movement : Automatic winding
Accessories : Box / guarantee card / instruction manual (Chinese)
Model information
In 1905, Hans Willsdorf, who foresaw the need for watches in the era when pocket watches were the mainstream, founded "Rossdorf & Davis" as a watch import trading company in London, England with his partner, "ROLEX ( Rolex) ". 
Later, when he set up his office in Switzerland, where watchmaking is thriving, he registered the trademark "ROLEX" as a trademark to make it simple, easy to remember and easy to pronounce in any language. Overwhelming other companies in technological innovation, shaving metal lump to enhance the robustness and waterproof to the utmost " Oyster case ", " Perpetual " established automatic winding, " Datejust " that instantly changes the date at 24:00.
The three major inventions and other technologies that drastically evolve the wristwatch are being developed one after another, establishing the highest position as a practical watch. Many long-selling collections such as "EXPLORER", "DATEJUST", "SUBMARINER", "DAYTONA" and "YACHT MASTER" have been created and are loved by people around the world. I am. 
This model is "SEA-DWELLER" (Sea-Dweller) which was born as a higher model of "Submarina". It will be a big topic when it appears as the first combination model in the history of "Sea Dweller" in the 2019 model. The case full of volume, which is also an individuality, has a thickness of 15 mm, and the size is also increased to 43 mm. The movement has evolved into the long-awaited new-generation cal. The waterproof performance boasts of 1200m unique to "Sea-Dweller", and it is finished in one that embodies the essence of "Rolex".
ROLEX can last for years and decades if treated carefully and properly, but it will not survive the deterioration over time.
If you have ROLEX watch and want to sell it just come to Jewel Cafe for free estimation.
Jewel Cafe location
Jewel Cafe located in 1st floor, AEON Mall Bukit Raja Shopping Centre, Klang.. near to Digi and Swan.
Visit Jewel Cafe for more information.
You also can call us first to ask about our operation hour or anything.