AEON AU2 Setiawangsa Shopping Centre blog
INFORMATION FOR ROLEX OYSTER PERPETUAL MOVEMENT!
January 6, 2021
Good morning and have a nice day !
May you guys stay healthy and STAY SAFE!!
JEWEL CAFE : JAPAN NO.1 JEWELRY RECYCLE STORE
Jewel Cafe's main business is we purchase your unwanted jewelry such as broken parts, single earring, yellow gold, white gold, platinum, gold bar, gold coin and etc.
.
Today we would like to share for the ROLEX Oyster Perpetual Watch Movement.
Hidden away in its waterproof case, the Perpetual movement remains invisible to the wearer of the watch.
..
Only Rolex-certified watchmakers are able to access it with their special tools. Yet, when it has the honor of being seen, this exquisite mechanism known the world over for its chronometric performance can truly be admired for what it is: a work of art, a magnificent miniature universe, a myriad of shapes, forms, volumes, colours and surfaces, some polished, some satin-finished, others circular-grained, always with loving care, and in keeping with watchmaking tradition.
.
Precision, robustness, reliability
A COMMON ARCHITECTURE
.
The Perpetual movements that equip the Oyster models play a key role in the reputation for excellence of Rolex watches. These self-winding mechanical movements, all rigorously certified as chronometers by the Swiss Official Chronometer Testing Institute (COSC), are entirely designed and manufactured by Rolex based on common characteristics. These ensure high performance and adherence to uncompromising requirements in terms of precision, reliability, shock-resistance, efficient self-winding and ease of maintenance.
Chronometer position.
.
At the heart for the movement!
.
BALANCE WHEEL WITH VARIABLE INERTIA
Equipped with gold Microstella nuts, the large balance wheel allows high‑precision regulating and offers great stability.
.
.
HAIRSPRING WITH ROLEX OVERCOIL
The outermost coil of the hairspring is curled towards the centre to counter the effects of gravity This allows perfectly balanced and concentric (isochronous) oscillations of the balance wheel-hairspring assembly.
.
.
.
OPTIMAL FREQUENCY
A frequency of 28,800 beats per hour (8 per second) allows optimal conciliation of the oscillator's precision and peerless reliability.
.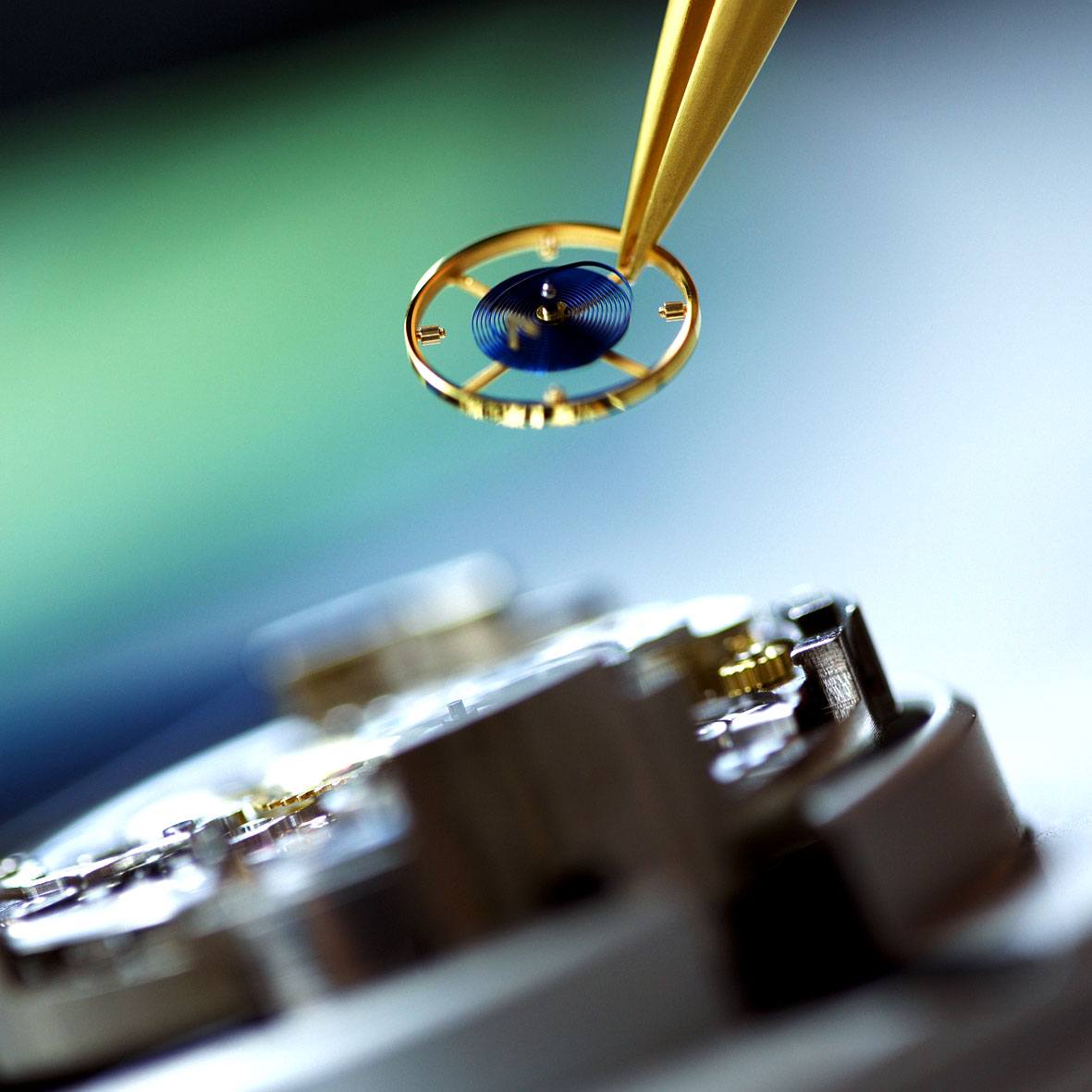 .
TRAVERSING BALANCE BRIDGE
The traversing balance bridge allows stable and precise positioning of the oscillator in order to improve chronometric performance. The bridge's rigidity greatly improves shock resistance.
.he traversing balance bridge allows stable and precise positioning of the oscillator in order to improve chronometric performance
.
.
HIGH-PERFORMANCE LUBRICANTS
The quality of the lubricants is of prime importance for the proper functioning of a mechanical movement.
.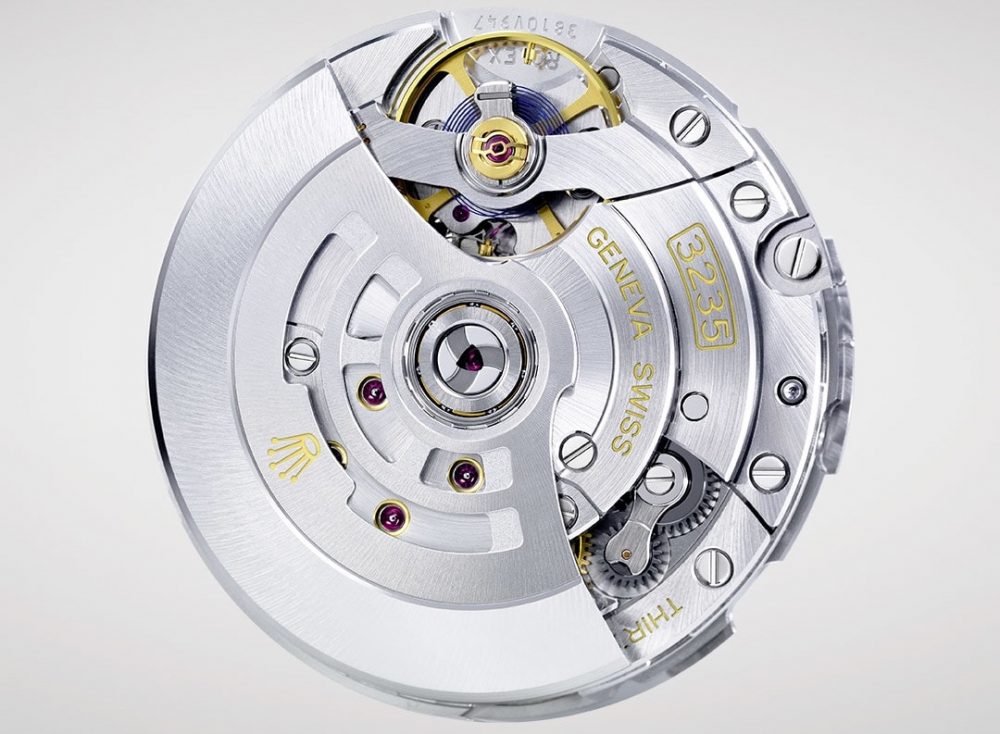 .
REFINED FINISHING
Although the Perpetual movements are accessible only to Rolex-certified watchmakers using specific tools, they are decorated in the finest watchmaking tradition. The plates and gear trains are circular-grained, the bridges satin‑finished, circular-grained or snailed, the screw heads are mirror-polished and all edges are bevelled.
.
.
PARAFLEX
An exclusive and highly efficient shock absorber developed and patented by Rolex in 2005.Improves the shock resistance of Rolex watches by up to 50 per cent.
.
.
ESCAPEMENT
The ticking is produced by the escapement, a strategic part that plays a key role in the movement's measurement of time. "Tick": a tooth of the escape wheel locks against one of the pallets of the lever. Then, released by the sweep of the oscillator, the pallet fork lets the wheel "escape", until it locks against the second pallet: "tock". The pallet fork continues its infinite pendular beat against the oblique teeth of the escape wheel precisely 28,800 times every hour – 14,400 "ticks" and 14,400 "tocks". That's 250 million times a year. We are at the very heart of the Rolex Perpetual movement, where its pace is distilled with chronometric precision.
.
.
A history of precision
SUPERLATIVE CHRONOMETER
.
The green seal accompanying every Rolex watch is a symbol of its status as a Superlative Chronometer. This exclusive designation attests that it has successfully undergone a series of specific final controls by Rolex in its own laboratories according to its own criteria, in addition to the official COSC certification of its movement. This unique testing of the chronometric precision of the cased-up movement, as well as of the watch's waterproofness, self-winding and power reserve, pushes back the boundaries of performance and makes Rolex the benchmark for excellence in mechanical watches. The green seal is coupled with a five-year guarantee which applies to all Rolex models.
.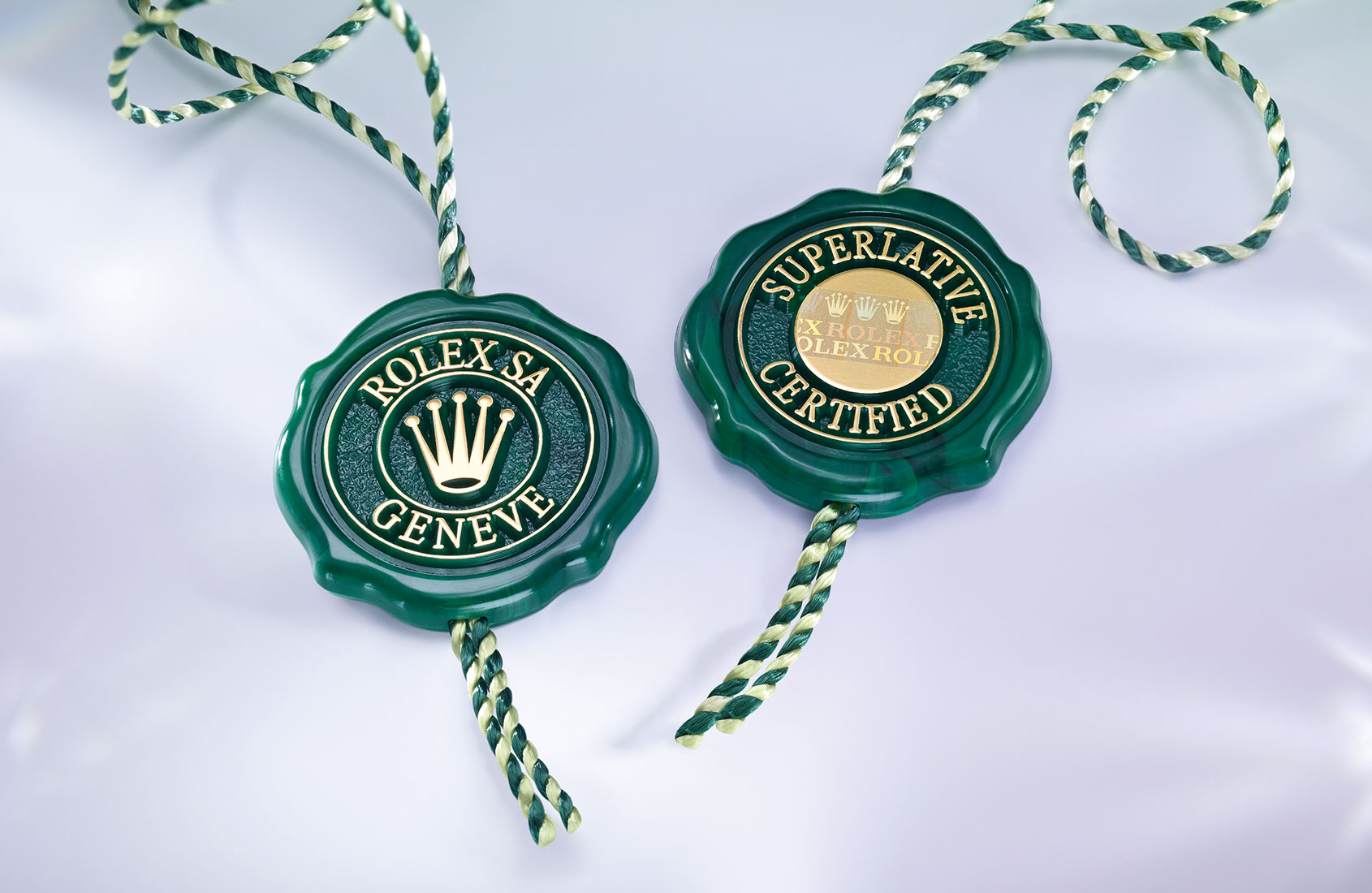 .
Last Part!
Did you know?
THE ORIGIN OF THE PHRASE.
"Superlative chronometer officially certified"
Historically, a watch could be designated as a chronometer by its own manufacturer to attest of its high precision, a process which obviously carried a risk of fraudulent abuse. To guarantee the quality of its chronometers, Rolex made the choice to have them officially certified, in spite of the costs and extra time required. To mark this difference, in the late 1930s, the brand changed the inscription on its dials from "Chronometer" to "Officially Certified Chronometer". In 1951, official certification became obligatory. Rolex decided to differentiate itself by obtaining certificates avec mention (certificates of superior performance). According to the old rules, movements whose precision proved superior in the tests received a certificate with the citation "particularly good results". By the late 1950's, Rolex launched a new generation of movements which were up to three times more precise than the criteria for obtaining a mention.
..
Hope all the Rolex Movement information will help you guys to gain a new experience knowledge about the Rolex movement!!!
.
Enjoy your day!!
.
VISIT JEWEL CAFE OUTLETS
Address and contact no. as following:
==============================================
KL Branch:
AEON AU2 SETIAWANGSA SHOPPING CENTRE,
LOT G26 GROUND FLOOR,
NO.6, JALAN TAMAN SETIAWANGSA AU2, T
AMAN KERAMAT,
54200 KUALA LUMPUR.
TEL: 03-4251 1151
AEON TAMAN MALURI SHOPPING CENTRE,
LOT, F29 FIRST FLOOR,
JALAN JEJAKA TAMAN MALURI CHERAS,
55100 KUALA LUMPUR.
TEL: 03-9201 4001
==============================================
Klang Branch:
AEON BUKIT RAJA SHOPPING CENTRE,
F34 FIRST FLOOR,
PERSIARAN BUKIT RAJA 2,
BANDAR BARU KLANG,
41150 KLANG,
SELANGOR DARUL EHSAN.
TEL: 03-3358 8466
AEON TAMAN EQUINE SHOPPING CENTRE,
LOT G15, GROUND FLOOR,
NO.2 JALAN TAMAN EQUINE,
PUSAT BANDAR PUTRA PERMAI,
43300 SERI KEMBANGAN , SELANGOR
TEL: 03- 8959 4110